The Millers
is an American situation comedy series that was created by 
Greg Garcia
. The 
multi-camera
 project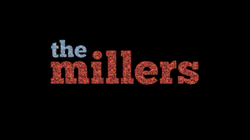 premiered on 
CBS 
on Thursday, October 3, 2013, as part of the 
2013–14 American television season
.
The Millers
 airs Thursdays at 8:30 (ET/PT), following 
The Big Bang Theory
The series concluded after airing 28 episodes over 2 seasons on November 17th, 2014..
As the series begins, Nathan and Debbie's parents Tom and Carol Miller are returning from Myrtle Beach and Nathan informs them he has divorced his wife, Janice. Tom responds by deciding to leave Carol after being married for forty-three years. Tom moves in with Debbie and Adam while Carol moves in with Nathan, each driving their children crazy.
Cast and characters
Edit
Ad blocker interference detected!
Wikia is a free-to-use site that makes money from advertising. We have a modified experience for viewers using ad blockers

Wikia is not accessible if you've made further modifications. Remove the custom ad blocker rule(s) and the page will load as expected.